The Bath Chronicle & Weekly Gazette of 13th May 1922 showed the members of the force lined up in Orange Grove, outside the then police station (now a restaurant) where a memorial to four fallen colleagues had been dedicated on Wednesday 10th May.





The Police moved to new, purpose-built premises in Manvers Street in the 1960s and the memorial plaque was removed thence. The Manvers Street building was however sold in 2015 and the police have moved their main local offices to Keynsham, with only a service desk and a duty office left in Bath.

On enquiry in 2015, the memorial had been "placed into storage".



Thanks to Mr David Carter who sent me a photograph of the Police Memorial taken while in situ in the Manvers Street station: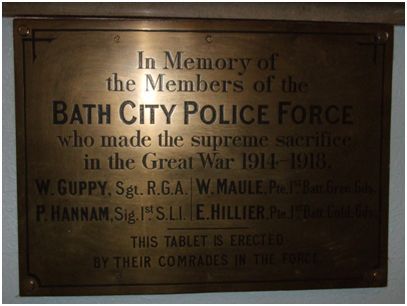 Following an enquiry in February 2018 by local journalist Richard Wyatt, we now know that the plaque has been put on display at Avon & Somerset HQ in Portishead. The police press officer, Jenny Bigwood, has supplied the following image of the plaque in its new situation:



It is an interesting point for discussion as to whether this memorial to four Bath men should be on display in the city of Bath or whether, as a police memorial, it is best kept in Portishead. Its original purpose of putting a record of these four men's sacrifices on public display in a relevant setting is difficult, now that the city of Bath does not seem to warrant its own police station.

The inscription reads:

---
In Memory of
the Members of the
BATH CITY POLICE FORCE
who made the supreme sacrifice
in the Great War 1914-1918



W. GUPPY

, Sgt. R.G.A


P. HANNAM

, Sig. 1st S.L.I.

W. MAULE

, Pte. 1st Bn. Gren. Gds.


E. HILLIER

, Pte. 1st Bn. Cold. Gds.
This tablet is erected
by their comrades in the force.
---