A comprehensive history of the Pitman Press can be found here.

The memorial pictured above was installed in the offices of Pitman Press in March 1924, when the premises of the company were also significantly extended. The 'new build' in 1924 included most of what formed the street frontage on Lower Bristol Road for the remainder of the 20th century and into the 21st..

It hasn't been possible to find any specific mention in old newspapers of any ceremony associated with the installation of the plaque. It includes the names of four of the men listed on the South Twerton memorial (S. H. Burch, S. W. Crew, A. G. Naish & W. R. Smith) and the brother of a fifth (A. W. Strong, brother of George). Some of the inscriptions are curious in that the units to which the men are attributed do not match known records.

Since the closure of The Bath Press (successor of The Pitman Press) in 2007, the building stood empty / derelict before demolition started in January 2015 ahead of the site being developed for housing.

The fate of this memorial plaque was unknown for some time. Mr Keith Jones (a former employee of Bath Press and a living descendant of Ernest Mundy), however, provided the key piece of information, namely that the legal secretary of the French company that bought out the Bath Press had taken the plaque away for safekeeping. We were able to make appropriate enquiries and the good news is that the memorial has now been returned to Bath and been given a safe home in the Museum of Bath at Work for the time being. As far as we know, it will not be on display and people wishing to view the plaque would be well-advised to call ahead to ensure it can be accessed. The Museum Director hopes, in due course, to have the plaque installed somewhere on the old Bath Press site when this has been developed, provided a fitting and secure location can be ensured.


When the memorial arrived back in Bath, it was interesting to see that it had been enlarged to include a second plate with the names of those from the Pitman Press who lost their lives in World War II. The whole has been remounted on an oak frame and there is a hook for a wreath present.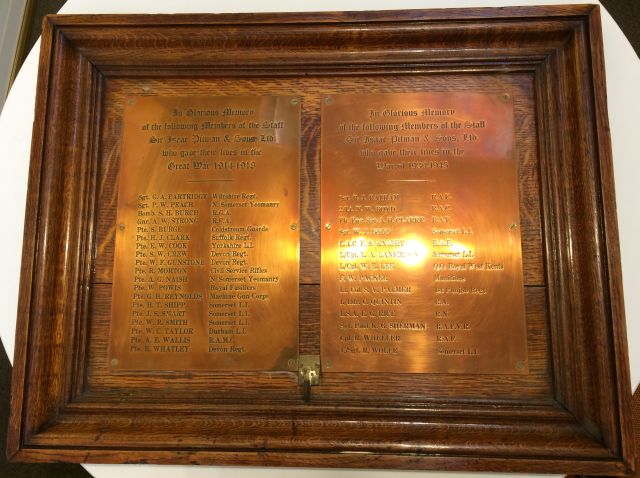 The story of the return of the plaque was covered in the Bath Chronicle (beware!... nasty ad pop-ups now infest the Chronicle site) and by the Virtual Museum of Bath.

To assist anyone researching servicemen appearing on this memorial, the list of names and units (as stated on the memorial) is as follows:
World War I
Sergeant

G. A. PARTRIDGE,

Wiltshire Regiment
Sergeant

P. W. PEACH

, North Somerset Yeomanry
Gunner

A. W. STRONG

, Royal Field Artillery
Private

S. BURGE

, Coldstream Guards

Private

H. J. CLARK

, Suffolk Regiment
Private

E. W. COOK

, Yorkshire Light Infantry
Private

W. F. GUNSTONE

, Devon Regiment
Private

R. MORTON

, Civil Service Rifles
Private

W. POWIS

, Royal Fusiliers
Private

G. H. REYNOLDS

, Machine Gun Corps
Private

H. T. SHIPP

, Somerset Light Infantry
Private

J. S. SMART

, Somerset Light Infantry
Private

W. C. TAYLOR

, Durham Light Infantry
Private

A. E. WALLIS

, Royal Army Medical Corps

Private

E. WHATLEY

, Devon Regiment
World War II
Sergeant

R. J. BATHAM

, Royal Air Force
2nd Lieutenant

N. W. BOYD

, Royal Armoured Corps
Flight Engineer Sergeant

A. H. CLARKE

, Royal Air Force
Sergeant

W. A. DODD

, Somerset Light Infantry
Leading Aircraftsman

F. S. KNIGHT

, Royal Air Force
Lance Corporal

L. A. LANSDOWN

, Somerset Light Infantry
Lance Corporal

W. E. LEE

, Queen's Own Royal West Kents

F. W. PACKER

, Munitions
Lieutenant Colonel

S. V. PALMER

, 1st Punjab Regiment
Lance-Bombardier

C. QUINTIN

, Royal Artillery
Leading Supply Assistant

E. G. RICE

, Royal Navy
Sergeant Pilot

K.G. SHERMAN

, Royal Air Force Volunteer Reserve
Corporal

R. WHEELER

, Royal Air Force
Lance-Sergeant

R. WOLFE

, Somerset Light Infantry